---
---
• De 14h00 à 17h00 •
Bezumnye podrazhateli 
Les Mimes fous (Mad Mimes) 
Russie | 2012 | 30 min | vostf 
un film de / directed by : Dimitri Venkov (Russie) 
Silent Visitors 
Les Visiteurs silencieux 
Japon | 2012 | 64 min
un film de / directed by : Jeroen Van der Stock (Belgique)
Nzoku ya pembe 
L'Eléphant blanc (White Elephant) 
République démocratique du Congo | 2011 | 34 min | vosta 
un film de / directed by : Kristof Bilsen (Belgique)
 • De 17h30 à 19h30 •
Narmada 
Inde | 2012 | 43 min | vostf 
un film de / directed by : Manon Ott, Grégory Cohen (France)
The Chairman and the Lions
Le Président et les Lions 
Tanzanie | 2012 | 46 min | vosta 
un film de / directed by : Peter Biella (Etats-Unis)
 

• De 20h30 à 23h00 •

 
The Tundra Book. A Tale of Vukvukai, the Little Rock
Le Livre de la Toundra. Un conte de Vukvukai, Petit-rocher 
Russie (district autonome de Tchoukotka) | 2012 | 105 min | vosta 
un film de / directed by : Aleksei Vakhrushev (Russie)
---
Bezumnye podrazhateli 
Les Mimes fous (Mad Mimes) 
Russie | 2012 | 30 min | vostf 
un film de / directed by : Dimitri Venkov (Russie) 
image / photography : Margarita Kariuk, Daniil Zinchenko 
montage / editing : Dimitri Venkov 
son / sound : Antonina Baever, Petr Joukov, Anton Kuryshev  • production : Rodchenko School of Photography and Multimedia (Moscou, Russie) administration(at)mdfschool.ru • distribution : Dimitri Venkov (Moscou, Russie) –

apparatchik2000(at)yahoo.com

.
EN PRÉSENCE DU RÉALISATEUR / FOLLOWED BY A DISCUSSION WITH THE FILMMAKER
Dans une communauté de marginaux vivant en bordure du boulevard périphérique de Moscou, s'est développé un culte du cargo. Ils survivent presque entièrement des ordures rejetées en bordure de route, néanmoins cette source de subsistance est hautement imprévisible. Leur dépendance à l'égard des fluctuations de l'approvisionnement les conduit à développer un culte de la route.
The film is a study of a cargo cult of the Moscow Ring Road, which developed in a self-marginalized commune located on the outskirts of Moscow. They survived almost entirely on roadside garbage. Although the road provided for their basic needs it was a highly unpredictable source of livelihood. Their dependency on the roadway's fluctuations led them to develop a cult of the road.
__________
Cinéaste indépendant et artiste video, Dimitri Venkov vit à Moscou. Après un master en études cinématographiques (Université d'Oregon, Etats-Unis, 2006), il réalise des films sur l'art contemporain et des documentaires à caractère social. Depuis 2009, Dimitri étudie à l'École d'art Rodchenko de Moscou. Ses œuvres, qui utilisent différents médiums, ont été montrées en Russie et à l'étranger. 
Filmographie 
2007 See through the Water 
2009 The World of the Other 
2012
America

__________
---
Silent Visitors Les Visiteurs silencieux 
Japon | 2012 | 64 min
Un film de / directed by : Jeroen Van der Stock (Belgique) 
image / photography : Emmanuel Gras 
montage / editing : Bram Van Paesschen 
son / sound : Manuel Vidal, André Philips
production/distribution : Savage Film (Bruxelles, Belgique) – tatjana(at)savagefilm.be 
EN PRÉSENCE D'EMMANUEL GRAS, CHEF-OPÉRATEUR / FOLLOWED BY A DISCUSSION WITH CINEMATOGRAPHER EMMANUEL GRAS
Portraits de Japonais passionnés d'exploration de ruines contemporaines (haikyo). Alors qu'ils visitent ces lieux abandonnés, ils révèlent certaines facettes de leur personnalité, tandis que la société japonaise de l'après tsunami est subtilement mise en lumière. "L'ambition de ce film est d'inciter les spectateurs à réfléchir sur la société moderne et de susciter la contemplation d'éléments tels que la force de la nature, l'éphémère et la décomposition." (JVS)
Set in contemporary Japan, 'Silent Visitors' portrays people who are highly passionate about urban exploration (haikyo). Their visits of these contemporary ruins reveal some parts of their unique personalities and at the same time shine a subdued light on post-tsunami Japanese society. "It is my ambition with this film to encourage spectators to ponder on life in modern society and to provoke contemplation on matters such as the force of nature, transience and decay." (JVS)
__________
Jeroen Van der Stock

, né en 1979 en Belgique, vit et travaille au Japon. Diplômé en 2002 de l'école supérieure des arts Sint-Lukas de Bruxelles (section cinéma) avec une installation retrospective de ses oeuvres. Son premier film documentaire Wild Beast (2008), portrait intimiste d'un figurant chinois, a été sélectionné dans de nombreux festivals. Silent Visitors est son deuxième film.
__________
---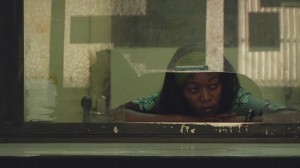 Nzoku ya pembe / 
L'Eléphant blanc (White Elephant) 
République démocratique du Congo | 2011 | 34 min | vosta 
un film de / directed by : Kristof Bilsen (Belgique) 
image / photography : Kristof Bilsen 
montage / editing : Eduardo Serrano 
son / sound : Xan Marquez Caneda
Production/distribution : National Film & TV School, NFTS (Beaconsfield, Royaume-Uni) – festivals(at)nfts.co.uk
La Poste centrale de Kinshasa, grandiose relique coloniale, a piégé ses employés dans un passé figé duquel ils rêvent de s'échapper. Du passé au présent, à travers les fissures des murs et les fuites des plafonds, nous entrevoyons le Congo d'aujourd'hui.
The Central Post-Office and its employees in Kinshasa, DR Congo. This grandiose relic of the colonial past  has trapped its employees in a frozen timewarp from which they are planning their escape. From past to present, through the cracks in the walls, and leaks in the ceilings, we glimpse present-day Congo.
site officiel / official website : kristofbilsen.com
__________
Après un master de cinéma obtenu à Bruxelles en 2002, Kristof Bilsen travaille en tant qu'opérateur, monteur et réalisateur pour le théâtre et la danse contemporaine. Puis il réalise des court-métrages documentaires et participe à un atelier dirigé par Werner Herzog. Il prépare actuellement un long-métrage en RDC pour lequel il a reçu la bourse Cinereach and CBA/Worldview. Il est l'un des huit membres fondateurs du collectif londonnien Kitchen Sink. 
Filmographie 
2004 

Drie Vrouwen (Thr

ee women) 
2009 ONCE 
2010 Parallel Lives 


2011 

The Perfect Belgian


__________
---
Narmada 



Inde | 2012 | 46 min | vostf 
Un film de / directed by : Manon Ott, Grégory Cohen (France) 
image / photography : Manon Ott, Grégory Cohen 
montage / editing : Mathias Bouffier 
Son / sound : Jocelyn Robert


P
roduction/distribution : TS Productions (Paris, France) – cloiseau(at)tsproductions.net & CNRS Image (Meudon, France) – celine.ferlita(at)cnrs-bellevue.fr
EN PRÉSENCE DES CINÉASTES / FOLLOWED BY A DISCUSSION WITH THE FILMMAKERS
Entrepris il y a plusieurs dizaines d'années, le projet de développement de la vallée de la Narmada est le plus important complexe de barrages conçu à ce jour en Inde. Sa construction entraîne l'inondation de nombreux villages et de quelques villes, de temples et de forêts ainsi que de sites archéologiques. Plusieurs millions de personnes sont affectées ou déplacées par le projet. Pour comprendre les croyances et les imaginaires qui cohabitent et s'opposent autour de la Narmada, ce ciné-voyage nous emmène à la rencontre du fleuve, des paysages qui se transforment et des habitants qui luttent face à la construction des barrages.
Undertaken several decades ago, the Narmada Valley Development Project is the largest complex of dams ever designed in India. Its construction involves the flooding of many villages and some cities, temples and forests as well as archaeological sites. Several million people are affected or displaced by the project. This film journey takes us to meet the river, the landscapes changes, as well as inhabitants of the Narmada valley fighting against the construction of the dams, to understand the coexistence of constrasting beliefs and imaginaries about the river.
__________
Manon Ott et Grégory Cohen sont tous deux photographes et cinéastes documentaristes. Ils préparent chacun une thèse en sociologie visuelle et enseignent la sociologie, la photographie ainsi que la réalisation documentaire à l'Université d'Evry (Centre Pierre Naville – Axe Image et Société) en parallèle de leurs doctorats. La question des identités et mémoires locales face à des territoires en mutation est au cœur de leur travail. En 2008, ils publient le livre de photographies et récits de vie Birmanie, rêves sous surveillance (éditions Autrement). Manon a également réalisé le film Yu, parcours d'une jeune demandeuse d'asile birmane à Paris, présenté dans de nombreux festivals. Ils sont co-fondateurs de l'association Les yeux dans le monde qui organise à Paris le Festival de documentaires itinErrance, des projections mensuelles et des ateliers d'éducation à l'image.
__________
---
The Chairman and the Lions 
Le Président et les Lions 
Tanzanie | 2012 | 46 min | vosta 
un film de / directed by : Peter Biella (États-Unis) 
Anthropologue : Kelly Askew (États- Unis)
image / photography : Peter Biella • montage / editing : Peter Biella, Daniel Chein • son / sound : Iván Drufovka production/distribution : University of Michigan, Department of Anthropology and Department Afroamerican and African Studies (Ann Arbor, Etats-Unis) –

kaskew(at)umich.edu
EN PRÉSENCE DE KELLY ASKEW, ANTHROPOLOGUE / FOLLOWED BY A DISCUSSION WITH ANTHROPOLOGIST KELLY ASKEW
Frank Ikoyo, chef d'un village massaï de Tanzanie combat les nombreux lions qui menacent sa communauté : avocats véreux et voleurs de terres, migration et manque d'éducation. Il nous donne à voir le monde massaï actuel, accablé de problèmes que les pratiques traditionnelles ne peuvent surmonter. Il prône l'éducation, comme condition essentielle de l'autodétermination, bien qu'elle puisse parfois conduire à une "criminalité éduquée". Nous suivons Frank dans ses fonctions : incitation des femmes à scolariser leurs filles, interrogatoire d'espions au cours d'un procès, demande de soutien à un aîné de renom pour la formation des jeunes guerriers à la chasse au lion.
The Maasai leader of a Tanzanian village battles many lions that threaten his community – shyster lawyers, land grabbers, migration, and lack of education. Chairman Frank Ikoyo provides a glimpse into the current world of Maasai – burdened with problems that traditional practices cannot overcome. Frank advocates education as a key to village self-determination, despite the fact that it can produce "educated criminals." The film depicts Frank's duties as Chairman – persuading women to send daughters to school, interrogating spies in a lawsuit, and eliciting help of a renowned elder to train young warriors in the art of lion hunting.
__________
Directeur du programme d'anthropologie visuelle de l'Université d'Etat de San Francisco, Peter Biella a été président de la Society for Visual Anthropology. Il a réalisé Yanomamö Interactive: The Ax Fight, un CD-ROM qui marque une contribution importante à l'ethnographie interactive, ainsi que de nombreux films en Amérique latine, notamment Textiles in Ayacucho (2007). Au cours des six dernières années, Peter Biella a collaboré avec les Maasaï de Tanzanie, à la réalisation de films sur la migration et le VIH, parmi lesquels : Maasai Migrants (2008), Maasai Speak Out (2010), Longido Homestead (2011), and Changa Revisited (2012).
__________
---
The Tundra Book. A Tale of Vukvukai, the Little Rock 



Le Livre de la Toundra. Un conte de Vukvukai, Petit-rocher 
Russie

(district autonome de Tchoukotka)

| 2012 | 105 min | vosta 
un film de / directed by : Aleksei Vakhrushev (Russie) 
image / photography : Vyacheslav Makaryev
• montage et son  / editing and sound : Julia Trofimenko
• Production/distribution : High Latitudes ltd. (Moscou, Russie) 

highlatitudes.ltd(at)gmail.com

 
EN PRÉSENCE D'Alexandra Lavrillier, ANTHROPOLOGUE / FOLLOWED BY A DISCUSSION

 WITH ANTHROPOLOGIST alexandra lavrillier



Vieil homme plein d'énergie et de sagesse, Vukvukai vit depuis 72 ans au cœur de la Tchoukotka (Russie). Véritable « homme de la toundra », son existence est inséparable de l'élevage du renne. Sa communauté, qui prend soin d'un troupeau de plus de 14 000 têtes, mène un combat permanent pour la survie et le bien-être dans les conditions climatiques les plus rudes. Tous croient profondément en la force de la tradition, qu'ils préservent et respectent et qui les aide dans cette lutte. Telle est la Vérité de Vukvukai.
For 72 years now, reindeer herder Vukvukai has lived in the depths of Chukotka. He is an old man full of energy and wisdom – a true man of the tundra whose life is inseparable from the reindeer. His people handles a huge herd – over 14,000 reindeer. Their life is a nonstop struggle for survival and well-being in the harsh weather conditions of Chaun-Chukotka. They deeply believe in the strength of tradition to succeed in their struggle. The ancient culture of nomadic Chukchi takes care of them, so they preserve and follow it. This is the Truth of Vukvukai.
__________
Aleksei Y. Vakhrushev est né à Anadyr (région autonome de Tchoukotka) en 1969. Diplômé de l'Institut national russe de la cinématographie (VGIK, Moscou) en réalisation, il est également anthropologue. Il a consacré son doctorat à la culture de la chasse aux mammifères marins, pratiquée par les peuples autochtones de la péninsule de Tchoukotka (Tchouktches et Yupiks). Réalisateur, scénariste et producteur, il a dirigé le Centre d'anthropologie visuelle de l'IEA-RAS (Institut d'Ethnologie et d'Anthropologie, Académie des Sciences de Russie) de 2000 à 2008.
Filmographie
1993 The Time when Dreams Melt
1996 Birds of Naukan
2001 The Island
2003 Chukotka's Cossacks
2004 The Walrus Tusk Chronicles
2005 Hunters of Cold Shores
2005-2008 Miracles Factory – Russian Animation (TV Series)
2006-2007 Peoples of Russia – The Indigenous of Russian Federation (TV Series)
2008 Welcome to Enurmino!
2009

Robert, Alla, Time…
__________