Ils sont jeunes et puissants. Ce sont des rugbymen professionnels. Une carrière courte. Un engagement physique et mental extrême. Le LOU est un club de rugby lyonnais où l'on prépare, où l'on façonne et répare les joueurs. La caméra s'immisce dans les rouages de la machine sportive, mondialisée et commerciale. Elle capte la petite musique des corps des athlètes que l'on forme au combat, sans jamais perdre de vue qu'ils sont des hommes.
They are young and strong… professional rugby players with a short career that requires extreme physical and mental commitment. In the French rugby club LOU in Lyon, the viewer gets to see where players get in shape, get debriefed, massaged and patched-up after the game. The camera zooms in on the bodies of athletes trained in combat, never losing sight of the fact that they are as human as the next man…
Formé en géographie et en anthropologie visuelle, puis en cinéma à la Fémis (Paris), Florian Geyer réalise des films depuis 2002. Son film Soufre a reçu, notamment, la Mention spéciale du Jury aux Rencontres internationales du documentaire de Montréal. Après plusieurs courts métrages documentaires pour la revue Cut Up d'Arte, il a réalisé Garçon Boucher. Écrit dans le cadre de l'atelier documentaire de la Fémis et tourné entre 2010 et 2013, le film a reçu de très nombreux prix.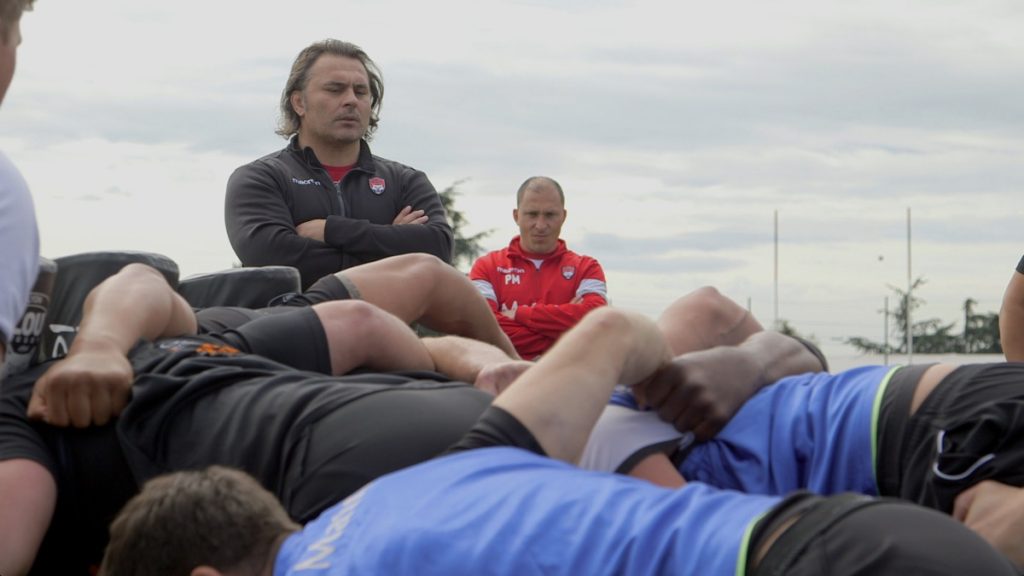 Fiche technique
Un film de / a film by : Florian Geyer (France)
image / cinematography : Tony Chapuis
son / sound : Vincent Brunier
montage / editing : Aurélie Jourdan
Production : Les films du balibari, Nantes (France)
clara.vuillermoz@balibari.com
Distribution : Point du Jour International, Paris (France) – agence@pointdujour.fr