Rosa Maria a quitté son village de Riace un jour d'été 1931 pour fuir la misère. Depuis, les maisons se sont couvertes de lierre, les terres se sont appauvries, les habitants scrutent la mer depuis les collines et continuent d'honorer Côme et Damien, deux saints venus d'Orient. Un jour de 1998, Baïram accoste sur cette plage calabraise avec deux cents autres Kurdes et décide de s'y installer. Aujourd'hui,  les gens du village s'appellent Roberto, Ousmane, Emilia, Mohamed, Leonardo, Taira.  Ils ne possèdent pas grand chose mais ils inventent, au jour le jour, leur destinée commune.
In 1931 Rosa Maria leaves Riace, in Calabria, to escape poverty. For some time the people in the village have watched the houses become overgrown and the land become poorer. They spend hours looking at the sea from the hills but they continue to worship Cosma and Damiano, two Saints who came from the Orient. One day, in 1998, Bairam lands on a beach near Riace with 200 Kurds. He decides to settle there and today the people of Riace are called Roberto, Ousmane, Emilia, Mohamed, Leonardo, Taira. They don't have much but they invent every day their common destiny.
Shu Aiello a travaillé longtemps au sein de 13 Production. Elle est réalisatrice, entre autres, d'une vingtaine de documentaires consacrés aux questions d'identité et de société posées par l'histoire coloniale de la France, en outre-mer.
Filmographie non-exhaustive :
2001 La Mutation du crabe cocotier
2009 Cinéaste et Papillon
2007 Collection Vers l'autre rive, Méditerranée monde arabe
Catherine Catella, héritière d'une double culture, française et italienne, se consacre depuis longtemps aux questions de l'exil. Principalement monteuse de documentaires, elle est aussi réalisatrice.
Filmographie non-exhaustive
2009 Palermo bella, 2009
2007 Moi aussi je suis à bout de souffle, coréalisé Avec Christian Docin-Julien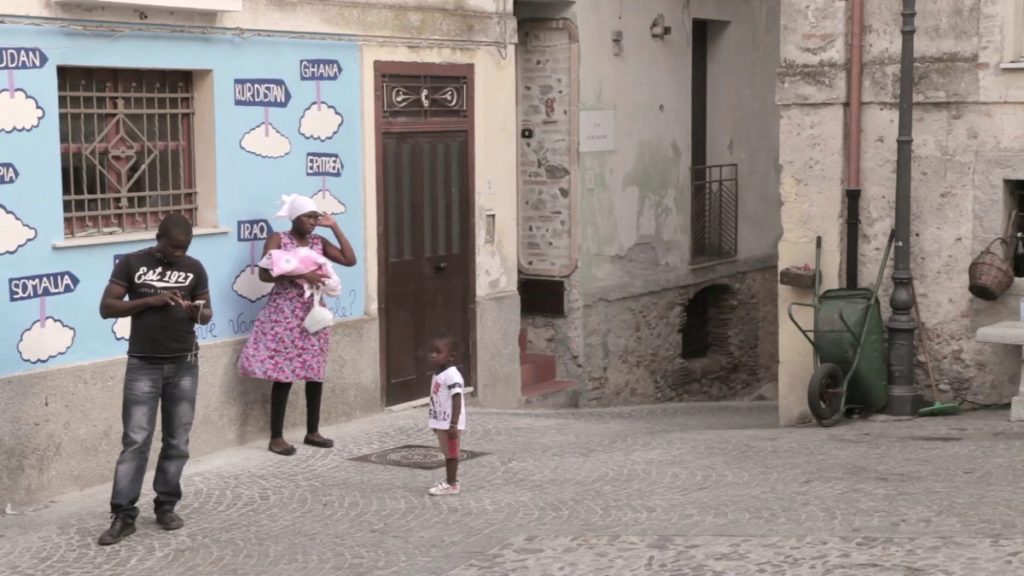 Fiche technique
Un film de / a film by : Shu Aiello (France), Catherine Catella (France)
image / cinematography : Maurizio Tiella
son / sound : Jean-François Priester
montage / editing : Catherine Catella, Shu Aiello
production/distribution : Tita Productions, Marseille (France) – marion.ellena93@gmail.com