Elles ont à peine vingt ans et affrontent l'État islamique au Kurdistan syrien. Dans cette région du monde où l'homme marche devant et la femme derrière, le fait qu'elles aient pris les armes aux côtés de leurs frères revêt une signification extraordinaire. D'ailleurs, nous les connaissons déjà  : leurs foulards de couleur, leur calme et leur courage ont fait le tour du monde. Leur quotidien dans un monde en ruine, les moments d'attente et de fraternité, les veillées d'armes autour du souvenir des disparus tissent le portrait de ces combattantes, les Filles du feu.
At barely twenty years old they have joined the fight against ISIS in Syrian Kurdistan. In a part of the world where men walk in front and women walk behind, their taking up arms alongside their brothers has an extraordinary significance. We already know of them — their coloured scarves, their calm and their courage under fire have been seen around the world. This film weaves together their long periods of waiting, their fraternal-sisterly bonding, their mourning of those lost, and their daily lives amidst a world in ruins. These are the Fire's Daughters, and this is their story. 
Né en 1959, vivant à Paris, Stéphane Breton est réalisateur de films documentaires et ethnologue. Il parcourt le monde avec des bottes et une caméra. Il cherche la pluie.
Filmographie
2001 – Eux et moi
2003 – Le Ciel dans un jardin
2005 – Un été silencieux
2007 – Le Monde extérieur
2007 – Nuages apportant la nuit
2008 – La Maison vide
2009 – La Montée au ciel
2014 – Quelques jours ensemble
2014 – Les Disparus
2014 – Les Forêts sombres
2015 – Chère humaine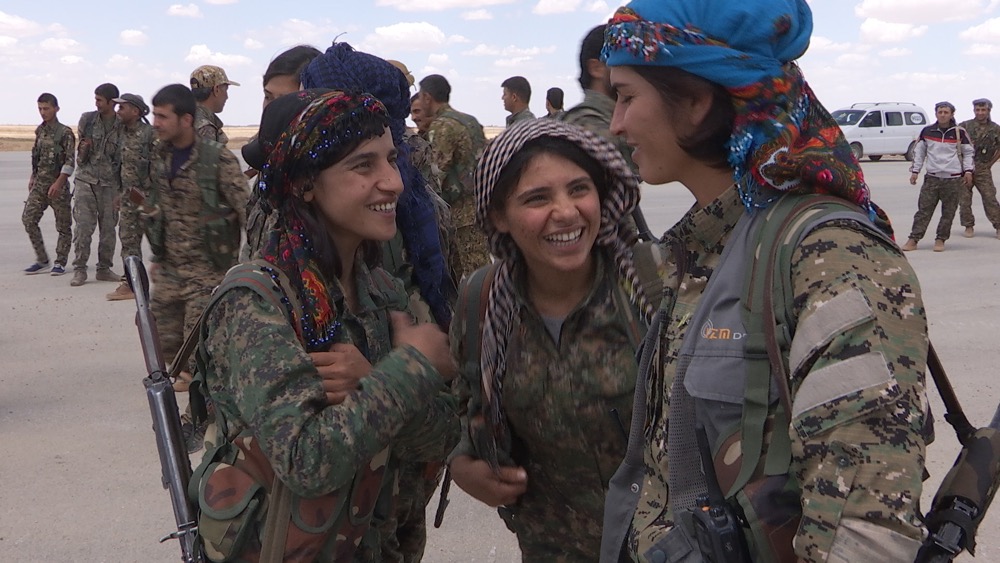 Fiche technique
Un film de / a film by : Stéphane Breton (France)
Image, son / cinematography, sound : Stéphane Breton
Montage / editing : Catherine Rascon
Production/distribution: Quark Productions, Paris (France)
quarkprod@wanadoo.fr