Zhao Liang parcourt d'est en ouest un vaste plateau où les prairies cèdent la place aux mines de charbon. Sous ses yeux se déploie le processus barbare de l'économie moderne chinoise. Le film offre un voyage entre rêve et réalité, allégorie et âpreté du réel, entre images, sons directs et musiques. La voix off du narrateur, du voyageur, inspirée de La Divine Comédie de Dante, est aussi celle du cinéaste, témoin des bouleversements de son pays, tandis que les différentes séquences du film établissent un enchaînement de cause à effet, propre à démontrer à quel prix la Chine paie son accession au rang de puissance économique majeure.
Facing the dust from rumbling mining machines, herders dwelling nearby have no choice but to keep their distance. In the moonlight, at the incandescent iron mine, a drill operator enduring his task struggles to overcome drowsiness. Meanwhile, at the coal mountain, a ghostly crowd hastens to sort coal from rock. An endless chain of trucks transports the coal and ore to factories, where another crew toils amid the heat of molten iron, like penitents in hell. In a hospital, for veteran miners who have inhaled coal dust for years, each day drags on forever even as death is already in sight. They seem to exist in a living purgatory, but no paradise awaits them on the other side…. Through these successive labors, we have destroyed a genuine paradise, while the material we create is carried off to construct a useless, fruitless counterfeit paradise.
Photographe, vidéaste et documentariste, Zhao Liang est diplômé de l'Académie des beaux-arts Luxun (1992). Après avoir travaillé quelques années pour la Télévision centrale de Chine (CCTV), il s'installe à Pékin et fréquente l'avant-garde artistique chinoise. Il développe une œuvre dont la dimension sociale est forte et les qualités esthétiques indéniables. Tournés sur plusieurs années, ses documentaires sont un témoignage exceptionnel sur la société chinoise en pleine mutation.
filmographie
2000 : Bored Youth (court métrage)
2001 : Jerks, Don't Say Fuck (court métrage)
2001 : Paper Airplane (Zhi fei ji)
2004 : City Scene (court métrage)
2007 : Crime et Châtiment (罪与罚, Zuì yǔ fá)
2009 : La Cour des plaignants (Pétition)
2010 : Zai yi qi
2015 : Behemoth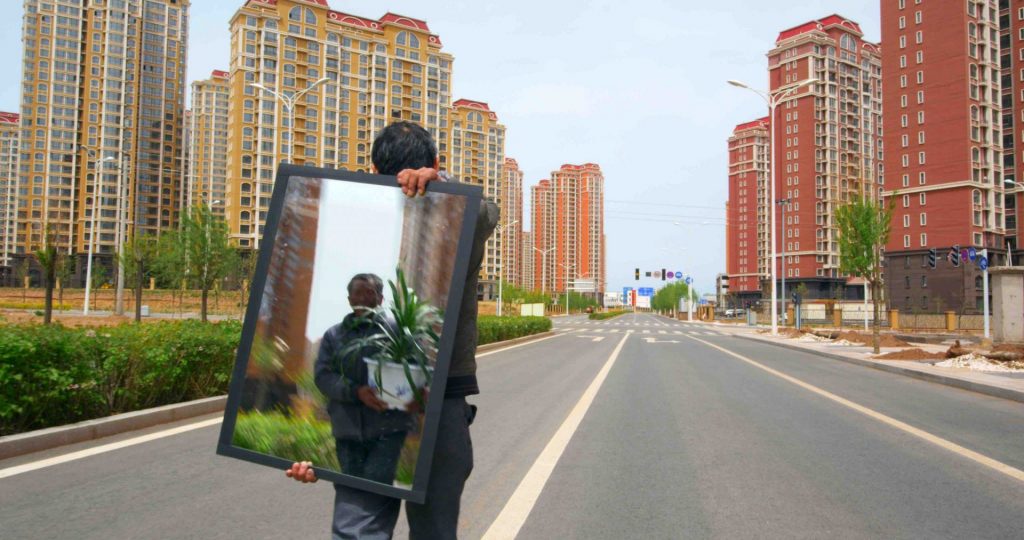 Fiche technique
Un film de / a film by : Zhao Liang (Chine)
image : Zhao Liang
son : Yao Chen, Mengchu Hu, Cao Rui, Guocheng Li
montage : Fabrice Rouaud
musique originale : Mamer, Alain Mahé, Huzi
production : INA – Institut National de l'Audiovisuel, ARTE France
avec la participation de : RTS – Radio Télévision Suisse, YLE, CNC
distribution : Upside Distribution, Paris